Regular price
Sale price
$84.00 USD
Unit price
per
Sale
Sold out
This course will provide participants with insight into my techniques for crafting distinctive letterings using the Nomadsculpt App and an iPad.
It is designed for newcomers to Nomad as well as those looking to expand their knowledge and master new techniques.

View full details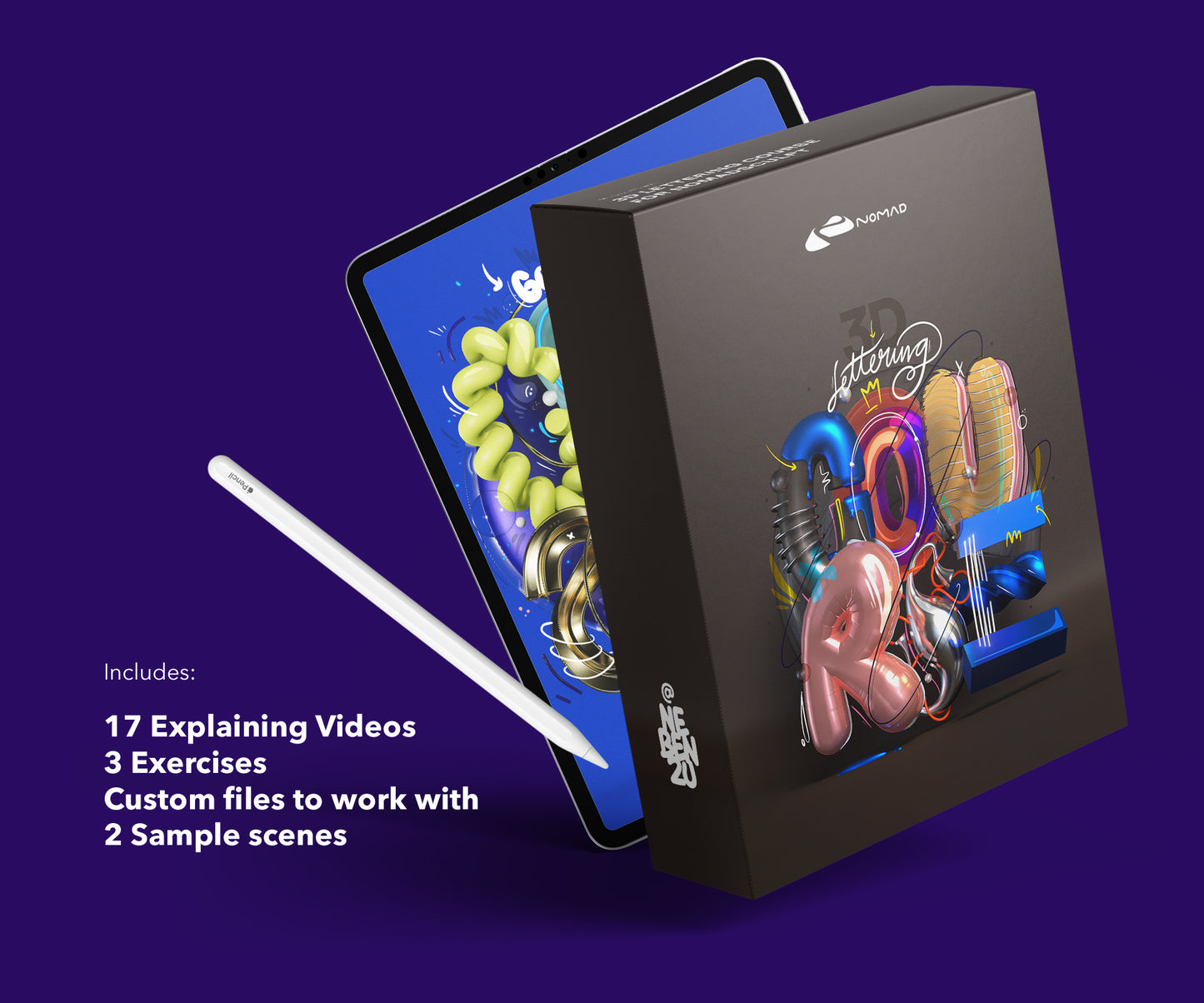 Course Content
Exploring Nomadsculpt's Interface

Our course begins with an in-depth exploration of Nomadsculpt's interface. Gain mastery over navigating menus, utilizing essential tools, and configuring crucial settings. Prepare yourself to embark on a captivating adventure into the world of 3D lettering!
Getting Started with Nomadsculpt

Start your Nomadsculpt journey by establishing your project files and acquainting yourself with fundamental functions.
Unveiling the Tube Tool

Introduction to the Tube tool, offering insights into its creation and customization for your designs. Delve into scene setup, point manipulation, and unleash your creativity with various options. Perfect your precision with locked views and apply your newfound skills to crafting unique tubes.
Mastering the Tube Tool - Exercise

This exercise guides you in harnessing the Tube tool's potential effectively. From setting up your scene to crafting your first tube, refining it, and exploring creative options like profiles, twists, and unique effects, you'll gain a comprehensive understanding of its capabilities.
Crafting 3D Letters with Masks

Explore an innovative technique for sculpting 3D letters. Building upon your Tube tool expertise, we venture into extruding black and white images from primitive geometry using masks. Unlock the potential of 'Mask' and 'SelMask' tools, experiment with custom alphas, and refine your creations.
Mastering Mask Techniques - Exercise

Dive into the realm of masks in this exercise. Begin with arranging basic shapes on your canvas, master plane manipulation using the Gizmo tool, and discover the art of custom alpha masks for intricate designs.
Get to know the Stamp Tool

We start with the Stamp tool, focusing on letter 'A.' Learn to apply intricate designs using alphas and fine-tune intensity.
Continuing with subtracting Shapes

Next, we dive into the letter 'B' to demonstrate subtracting shapes from objects.
Crafting a Balloon-Like Letter

Now, let's transform a 'C' into a balloon-like shape using the gInflate tool. This versatile tool allows you to inflate shapes with ease.
Exploring Repeater Tools

We delve into repeater tools, a powerful way to duplicate objects in various creative ways.
Creating Your First Lettering Artwork - Exercise

In this section where you'll craft your initial lettering artwork using a range of techniques.
Mastering Lighting Techniques

Explore lighting options in Nomad, covering both Environment and advanced 3-4 point lighting techniques.
Materials and Textures

Dive into the exciting realm of Materials, Textures, and Painting Options before applying materials to your artwork.
Post-Processing Magic

Discover the wonders of post-processing in Nomad, which can significantly enhance the visual appeal of your scenes. Adjust settings like reflection, global illumination, ambient occlusion, and more to achieve desired effects.
Choosing Your Perspective: Cameras

Nomad offers two camera types: orthographic and perspective. Learn about their differences, pros, and cons.
Saving and Exporting Your Nomad Artwork

Explore options to export Nomad Project Files, 3D exchange files like GLTF or OBJ, and render 2D images with customizable settings for further editing in Procreate or other software.
Preparing 3D Models for Procreate

Learn how to seamlessly prepare your 3D models for Procreate, including creating UV maps and optimizing object meshes for texture painting.
Integrating Procreate Textures

Discover the process of integrating textures created in Procreate into your Nomad Sculpt project. This involves exporting OBJ files and applying color, roughness, and metallic images as textures in the material menu.
English, including subtitles.

Voice over screenrecordings with english subtitles. Other subtitle languages on request (coming soon).

Course Files

Course includes several files for you to work with: Custom alphas, HDRI map, excercise backgrounds and two sample scenes.

Recorded with love

I tried to pack as much knowledge as possible into these videos for you to learn easily. Total length off all videos is more than 2h.
Buy once get lifetime access.
Dedicated so much time into this course and would love to help if there are any further questions.
Contact me
What students say about the course.
What you need to join the course:
An iPad or iPad Pro / A compatible Apple Pencil / The latest version of Nomadsculpt / Internet 😉